Thank you for the kind words. That is indeed my dilemma. The three of them are always next to each other and it's very difficult to decide which one, if any, should go down the road for something else. The Deluxe will keep evolving with more polishing and rubbing oil until it develops the same sheen that the Merkel has. The Deluxe really has dark wood with deep, intricate grain patterns.

_________________
Doubles, Hammers, Walnut, & Steel
_______Weidmannsheil!!_________________________________

12 Bore Merkel 247 SL
.257 Wby Mark V Oil Lasermark
.270 Wby Mark V Euromark
.300 Wby Mark V Oil Deluxe
.300 Wby Mark V Euromark
.338 WM Rem. 700 XCR Custom
.340 Wby Mark V Oil Deluxe
.375 H&H Mauser M03
.416 Wby Mark V Deluxe
______________________________________________
Founding Member




Posts

: 163


Join date

: 2008-04-03


Age

: 54


Location

: Southeast, PA



Just amazing. The transformation on the DeLuxe is astounding. I know we have discussed some sell off's but I believe with the 3 together it would be very tough to break them up.

_________________
To live out my remaining days as thou on Campaign. Trusted Guns, fine rifle, sturdy fly rod and hardy women

F.E, Thomas 4wt
Kimber Caprivi
A303....Isabella
............and these three above all others shall accompany near and far.....................
Founding Member




Posts

: 129


Join date

: 2008-04-03


Age

: 55


Location

: Big Horn Mountains of Wyoming



The rifle on the left is my recently completed Mark V Deluxe project which involved stripping off the polyurethane coating, re-checkering the stock, and applying many layers of oil finish. The center rifle is my refinished Euromark that I acquired from BighornWby. The one on the right is my refinished Classicmark II that I bought from KingCobraTx.
The girls are all chambered in the .300 Weatherby.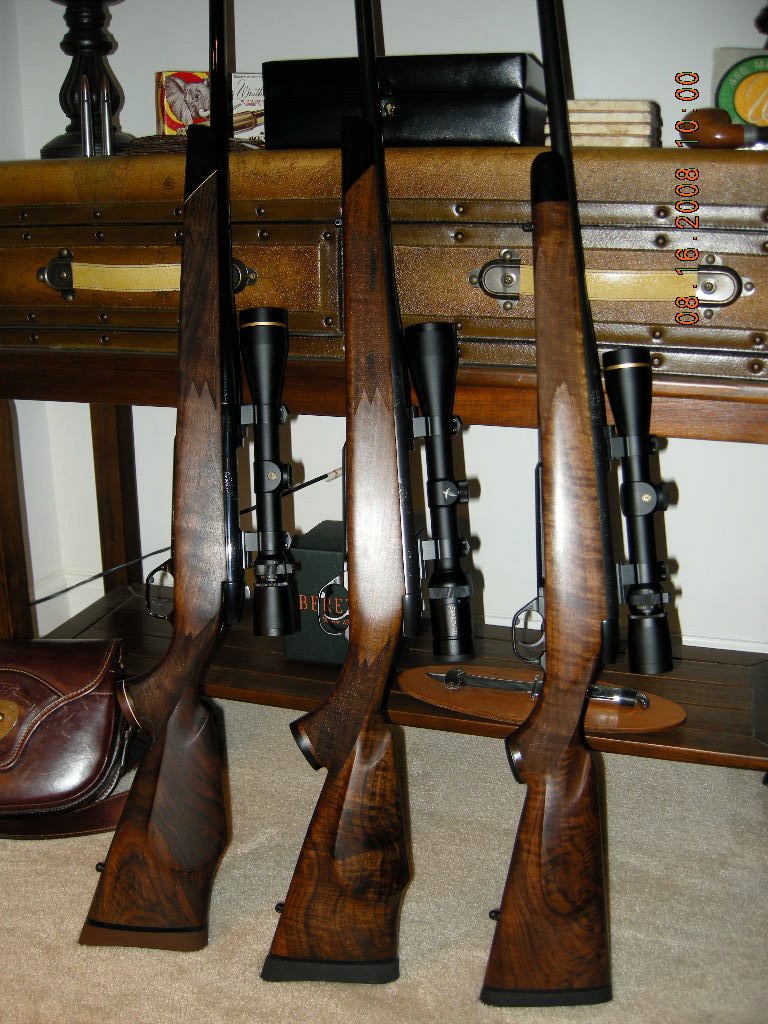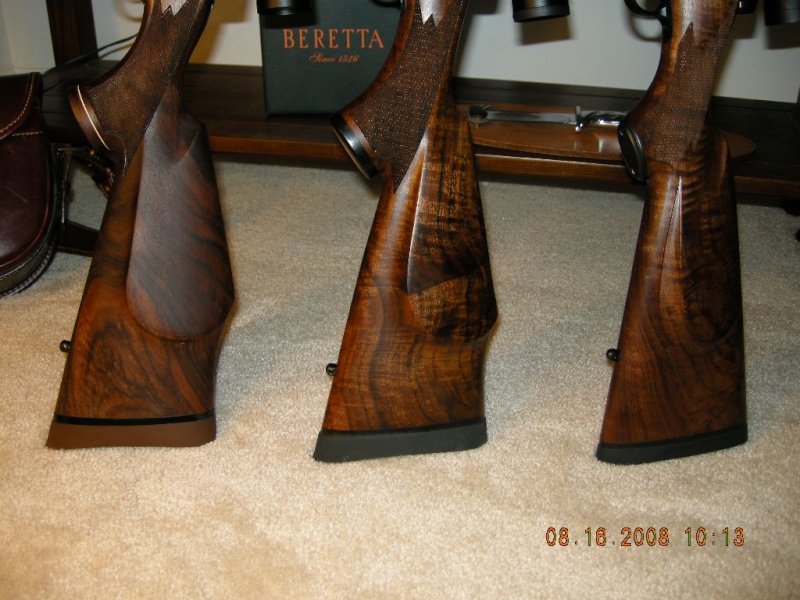 _________________
Doubles, Hammers, Walnut, & Steel
_______Weidmannsheil!!_________________________________

12 Bore Merkel 247 SL
.257 Wby Mark V Oil Lasermark
.270 Wby Mark V Euromark
.300 Wby Mark V Oil Deluxe
.300 Wby Mark V Euromark
.338 WM Rem. 700 XCR Custom
.340 Wby Mark V Oil Deluxe
.375 H&H Mauser M03
.416 Wby Mark V Deluxe
______________________________________________
Founding Member




Posts

: 163


Join date

: 2008-04-03


Age

: 54


Location

: Southeast, PA




---
Permissions in this forum:
You
cannot
reply to topics in this forum