WOW!!! That's a great looking rifle Jeff and it's seems to shoot incredibly well for you! I hope you're not planning on bringing that to Wyoming....it just wouldn't be fair!!


_________________
Doubles, Hammers, Walnut, & Steel
_______Weidmannsheil!!_________________________________

12 Bore Merkel 247 SL
.257 Wby Mark V Oil Lasermark
.270 Wby Mark V Euromark
.300 Wby Mark V Oil Deluxe
.300 Wby Mark V Euromark
.338 WM Rem. 700 XCR Custom
.340 Wby Mark V Oil Deluxe
.375 H&H Mauser M03
.416 Wby Mark V Deluxe
______________________________________________
Founding Member




Posts

: 163


Join date

: 2008-04-03


Age

: 54


Location

: Southeast, PA



Way cool, glad to here it is a shooter. It should be, but with a used barrel, who knows. I did my part, but again you never know.
Congrat's on a cool looking and shooting rifle.

_________________
To live out my remaining days as thou on Campaign. Trusted Guns, fine rifle, sturdy fly rod and hardy women

F.E, Thomas 4wt
Kimber Caprivi
A303....Isabella
............and these three above all others shall accompany near and far.....................
Founding Member




Posts

: 129


Join date

: 2008-04-03


Age

: 55


Location

: Big Horn Mountains of Wyoming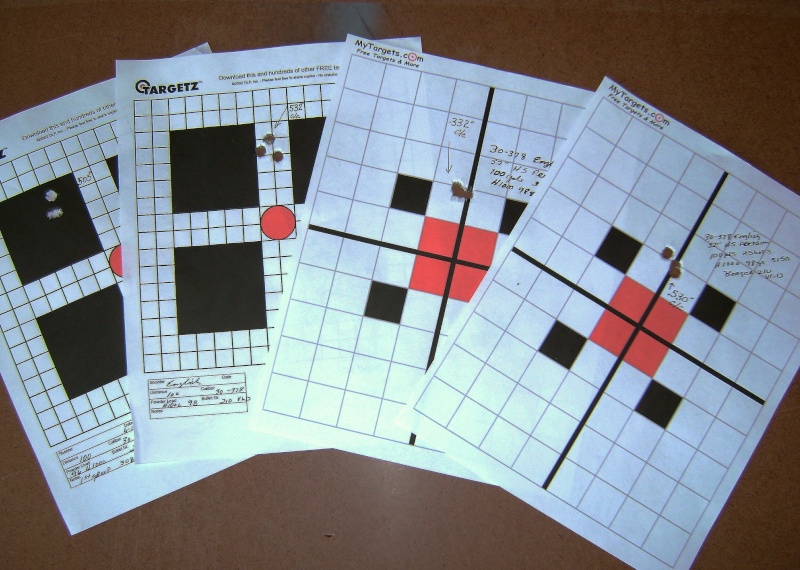 Well it took me long enough to get this beauty to the range. You guys might remember the English 30-378 Bighorn built for me. Quite the story actually...

So I buy this USED HS Percision 32" barrel and a nice looking English walnut stock off e-bay for $200 bucks. I call Ed all excited and I can almost read his mind...." you bought a used what in what caliber??"

I send it to him and we find an action, he Flutes it, does hi magic, sends it back all in one piece. I screw around for months getting the scope, rings and bases.

I had a silver Lupy here 4.5x14x50 30mm tube and a mil dot ret. and on it went.
So last night I open a new box of new Wby brass, trim them, dump in my pet load of 98gr of H-1000 powder set in some Berger 210 VLD's and box them up. This is the same load as my accumark likes, so I was hoping they might just shoot the same load.
Today off to the range I go. The gun dials right in, in 2 or 3 shots and shoots very small holes.




Plus this was new brass that has never ben in this rifle.
Here is a pic of the rifle and 4 groups. If you overlay these groups there are 12 holes in just over 1/2 MOA. Group sizes are, .530", .332", .532", and .505". Now darn it guys, this thing would not toss a stray!! And I guaranty it shoots better than me shooting a 378 based boomer with no break!! Ed this is a testiment to your fine gun knowledge and the care you take to do it right.
Thank You again for another BigHorn Rifle that shoots under 1/2 MOA very consistantly!!
Jeff.
Founding Member




Posts

: 59


Join date

: 2008-04-07





Similar topics
---
Permissions in this forum:
You
cannot
reply to topics in this forum